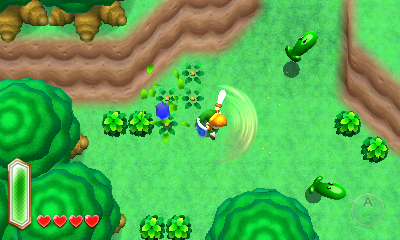 The game will be set in the same world as Link to the Past, however it will not be a direct remake of LttP as previously rumored! Below are a few of the first screenshots of the new 3DS Zelda. Check out the full Nintendo Direct below the gallery.
Official word from Nintendo
A New Game in The Legend of Zelda Series: Nintendo developers are working on a new game set in the world of The Legend of Zelda: A Link to the Past, which launched for Super NES in 1992. The game makes use of the 3D abilities of Nintendo 3DS, and allows Link to become a drawing and move along walls. A 3D video of the new game is now available to download in the Nintendo eShop for Nintendo 3DS. The game is scheduled to launch this holiday season.