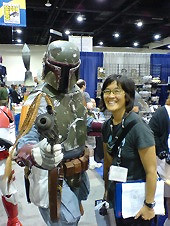 Comicon is coming to San Diego July 24-27 with a preview night on the July 23. The 4-day membership pricing for adults is $75 and 35 for juniors and seniors which includes the Wednesday preview day. The 1-day membership pricing for adults is $25 Thursday, $30 Friday, $35 Saturday and $20 Sunday. For juniors and seniors, it is $12 Thursday, $15 Friday, $15 Saturday and $10 Sunday. Children under 12 free with PAID adult membership. Juniors are 12-17 years old and Seniors are 60 or more years old. Active military will pay the Junior/Senior price.
Some of the special guests this year include the world's fastest cartoonist Sergio Aragonés, the writer of Batman and the Outsiders Mike W. Barr, cartoonist Kim Deitch, cartoonist, novelist, and playwright Lynda Barry, and also writer and artist of Legion of Super-heroes, Keith Giffen.
You can volunteer now for Comic-Con 2008. All you do is work a three-hour per day shift and play the rest of the day for free. You may volunteer all four days and recieve the limited edition Comic-Con Volunteer T-shirt. Volunteers must be at least 16 years old.