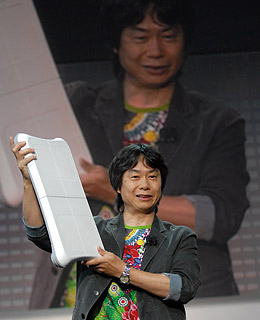 It's time for all of us to vote for Miyamoto in TIME.com's Most Influential TIME 100 finalists poll. Shiguru has already placed in the top 207 names on the list and final voting is going on right now. Head on over to the site and vote for Miyamoto.
AGE: 55
OCCUPATION: Video-game designer
NUMBER OF TIME COVERS: 0
PREVIOUS APPEARANCES ON THE TIME 100: 1

PRO: As if creating Mario, Donkey Kong, and The Legend of Zelda weren't enough, the "father of modern video gaming" is still designing franchises for Nintendo and its best-selling Wii console. His latest, Super Mario Galaxy, redefines VG physics once again with its springy re-imagining of that old chestnut, gravity.

CON: Can he reverse gravity for all the obese, video game–playing kids out there? Miyamoto himself has said that the purpose of his Wii Fit game, with its balance board and full-body focus, isn't to make you fit, but "aware of your body." Aware enough to go outside before atherosclerosis sets in?