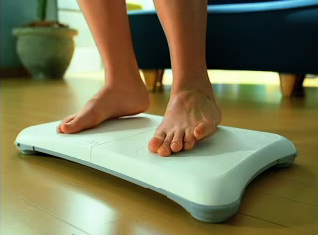 Wii Fit is hitting the US on May 19 for $89.99. That sounds reasonable to me. I will be picking one up and hopefully lose a few pounds 😉
April 15, 2008

In anticipation of the U.S. launch of Wii Fit™, the new interactive fitness game for the popular Wii™ system, Nintendo of America Inc. has announced pricing details for this groundbreaking release. Available at Nintendo World store starting on May 19, Wii Fit and the innovative Wii Balance Board™ accessory will be bundled and sold together at a suggested retail price of $89.99.

Boasting a dynamic mix of more than 40 yoga, aerobics, strength training and balance activities, Wii Fit provides consumers with a fun, easy and affordable way to incorporate exercise into their daily routines. Using the included wireless Wii Balance Board accessory, every member of the household can step up and stay active, setting individual fitness goals and tracking their progress over time.

Consumers in the New York area who pre-order Wii Fit from the Nintendo World store in Rockefeller Plaza will receive a special bonus item. From April 18-20, the first 1,000 consumers who place a $5 deposit for Wii Fit will receive a limited edition Wii Fit T-shirt featuring the image and reproduced autograph of legendary Nintendo video game designer Shigeru Miyamoto.

Through mid-February, Wii Fit had sold more than 1.4 million copies in Japan since its Dec. 1, 2007 launch. For more information about Wii Fit, please visit www.WiiFit.com.